Come to Brittanny, for the chance to stay in a beautifully preserved natural environment, ideal for regenerating and recharging your batteries. With its totally unobstructed view of the 7 islands that make up the bay, overlooking the beautiful Côte de Granit Rose, the pride of Brittany, the Agapa Hotel & Spa is an elegant address with discrete luxury, designed with your relaxation in mind.
Built in the heart of the chic Perros-Guirec, on the site of an old 1930s hotel, the Agapa's architecture combines tradition and modernism using glass, metallic structures, rough-stone and granite, while keeping the countryside in view. The interior takes on an Art Deco style with elegancy and moderation with furnishings that are uncluttered, geometric forms, the use of the duality of black and white and noble materials such as silver, copper, marble and mahogany.
The Agapa is a truly outstanding location with stunning décor.
ROOMS AND SUITES
The hotel's main section offers 32 bedrooms, 16 others are spread between the two "L'Eden Roc" villas, a truly intimate cocoon overlooking the ocean and the "Désirade", offering 10 spacious and luxurious, ultra-modern bedrooms, each containing a home cinema and offering a completely unobstructed panoramic view.
Whichever room you choose, you will be impressed by its high-tech equipment, stored in a totem pole, where you you can find the minibar, plasma screen, DVD and CD players and the safe. You can open and close your curtains, vary the light intensity and access the telephone all from the headboard of your bed.
RESTAURANT LE BELOUGA
You don't go to the Agapa just to pamper yourself but also to enjoy exceptional, highly reputable regional cuisine, all while enjoying a panoramic view of the 7 islands archipelago. At Bélouga, you treat yourself to the culinary delights of skilfully crafted seasonal produce. Not only the food looks incredible but is also delicate and contains new, exciting flavours.
SPA NUXE
The 400 sq-m Spa Nuxe dug straight from rock, is the perfect place to relax and take your senses on a voyage of discovery.
A range of personalised treatments, designed for your pleasure and well-being, involve some of the best relaxation techniques. For velvety smooth skin, you can experience the highly reputable pink clay Greek Bath or the "Hot Spicy Seaweed Ocean Massage", an anti-stress and revitalising formula for the whole of your body. Not forgetting the "Tropical Freshness" treatment, which comprises the experience of a hot-cold shower with a private sauna, crushed ice and distillation of menthol scents.
You are free to make the most of the fitness area, Jacuzzi, Turkish Baths, sauna and the 10 metre swimming pool with a view of the sea.
CHOOSE THIS HOTEL DURING THESE EXPERIENCES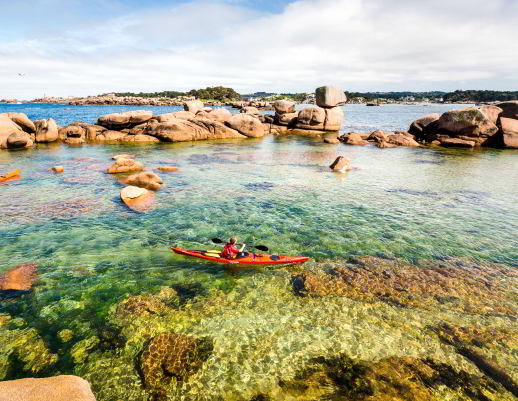 Brittany is not lacking in fascinating culture and bewitching beauty. We have traveled up and down the Côtes-d'Armor to organize a trip that will allow you to get your fill of the great outdoors…