LUXURY HOLIDAYS IN BRITTANY
Brittany is synonymous with rocks, peninsulas, romantic bays, lighthouses and colorful marinas. It is a region irremediably turned towards the sea, a land of great navigators, a land of inspiration for great artists like Gauguin and great writers like Chateaubriand, Balzac and Victor Hugo.
Here the most diverse landscapes, the most extensive coastline are home to such a rich culture and … very mysterious stories.
With the best guides, historians, contacts and locals in the region at your disposal to tell you the stories that move with the tides, we take you on an immersive luxury vacation in its spectacular landscapes.
Savor a delicious dinner of local cuisine on a boat sailing between Cap Fréhel and Mont-Saint-Michel or in the Gulf of Morbihan amongst its 365 islands, towards Ile au Moines; enjoy sunbathing on the beaches of the Glénan archipelago; take a surf lesson at the mythic Pointe de la Torche; immerse yourself in the history of its noble castles or its citadels, a reminder of a prestigious military past; savor the local culinary delights from the producers and chefs: exquisite oysters, mussels, sweet and salty crèpes and galettes, the traditional "Far Breton", beer and cider.
Whatever you choose to experience on your tailor-made itinerary in Brittany, we've sorted it out and we'll help you create a captivating trip through this fascinating region.
EXAMPLE ITINERARIES IN BRITTANY
We have no fixed itinerary, because at In-Luxe Travel France, true luxury follows no one else but you and combines rarity, knowledge, know-how, intuition. Take these itineraries as simply suggestions for the kind of holiday you might have in Brittany.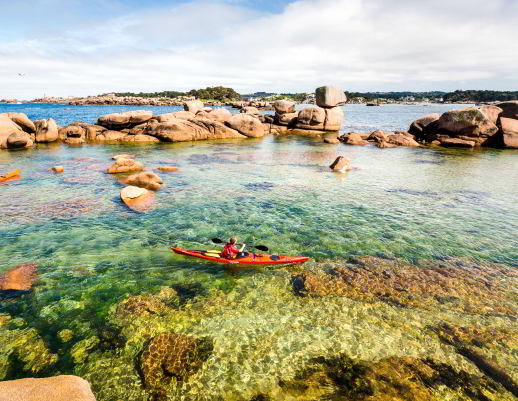 Brittany is not lacking in fascinating culture and bewitching beauty. We have traveled up and down the Côtes-d'Armor to organize a trip that will allow you to get your fill of the great outdoors…
read more
MUST SEE & DO IN BRITTANY
What you shouldn't miss to see and do while traveling to Brittany.
HIKE ON THE MOST FAMOUS WALKING TRAIL: THE GR® 34
On a section, along the wide open spaces of the Mont-Saint-Michel bay or along the very colorful landscapes of pink rocks and sandy beaches sheltered by the pines of the Côte de Granit Rose, while discovering the landscapes and the local population. Or all around the Breton coast, on an almost 2000 km route.
OYSTERS TASTING FROM PRODUCER TO PLATE: A MUST-DO
Taste your first Breton oyster directly at the oyster farmer in the Bay of Morlaix, in Cancale (from where Louis XIV had them come every day on horseback), or in the Golfe du Morbihan. The feeling of being fed with the freshest local produce that exists from best-in-class producers to plate is unmatched.
SAILBOAT, YACHT CHARTER TO PARADISIACAL ISLANDS
By far one of Brittany's must-do attractions, a tailor-made nautical getaway to the many sun-bathed islands is pure bliss. With an organized itinerary developed by our experts, you can sail in the Gulf of Morbihan or in the Glénan archipelago that looks like Caraïbes.