LUXURY HOLIDAYS IN BURGUNDY FRANCHE-COMTE
Burgundy is a region with a unique natural and historical heritage linked to the culture of the vine, home to many small family vineyards and wine traditions dating from the 15th century. Burgundy is dotted with exceptional appellations including Vosne-Romanée, Gevrey-Chambertin or Chassagne-Montrachet and an incredible number of distinctive wines.
Franche-Comté, backing onto Switzerland, is home to the Jura massif, cradle of Comté, Mont d'Or and Morbier cheeses, white wines (2/3 of the vineyard), made from Chardonnay and Savagnin grape varieties which give their delicious Vin Jaune; it's also a cross-country skiing paradise. Welcome to the midst of legendary vineyards, exceptional know-how and picturesque villages full of magnificent monuments.
Our tailor-made luxury holidays only offers the best in class for this incredible region, whether you envisage an exceptionnal private tasting of some of the globe's finest grands crus in Burgundy or want to pay tribute to the great scientist Louis Pasteur in Arbois before joining a private cheese-making class to discover the mysteries of some of the world's greatest cheeses in the Jura mountains.
Traveling in Burgundy, whose name resonates all over the world, is of course discovering its vineyard, already famous at the time of Emperor Augustus under the Roman Empire, and stopping for a moment in its famous abbeys of Cîteaux and Cluny, whose monks' labor contributed to the development of the Burgundy vineyard and the growing notoriety of its wines, making viticulture a trade. Its world-class cuisine would be reason enough to spend a holiday here and take part in a delicious culinary journey, whether to join a starred chef for a cooking class or to enjoy a boeuf bourguignon at one of the best restaurants in the region.
Our tailor-made luxury holidays in Burgundy will immerse you in the history of Burgundy wines whether it is to unravel the mysteries of the patchwork of 'Climats', unique in the world, registered on the list of UNESCO World Heritage, in a vintage car or on a biking-tour, or to enjoy a private wine tasting session in the famous Grand-Crus Corton and Gevrey-Chambertin wine cellars, in the Hôtel-Dieu (or Hospices de Beaune), a medieval gem built in 1443, or in the smaller winegrowers' cellars in Macon or Chablis and learn their family story.
We will design and organize a luxury travel itinerary to Burgundy that will far surpasses your highest expectations, according to your knowledge and tasting experience, making your time in Burgundy memorable.
EXAMPLES ITINERARIES IN BURGUNDY & FRANCHE-COMTE
We have no fixed itinerary, because at In-Luxe Travel France, true luxury follows no one else but you and combines rarity, knowledge, know-how, intuition. Take these itineraries as simply suggestions for the kind of holiday you might have in Burgundy and Franche Comté.
From Chablis to Puligny-Montrachet, passing through Morey-Saint-Denis, Nuits St-Georges and Meursault, we know little things when it comes to combine haute cuisine and world-class wines, accompanied by the privilege of discovering and tasting great wines told by those who create them.
read more
Our prestigious Grands Crus and Premiers Crus Wine Tours in Burgundy are created to deliver a cultural and human experience like no other, populated by enriching and exceptional encounters with the winegrowers along with tastings of some of their legendary wines.
read more
MUST SEE & DO IN BURGUNDY & FRANCHE COMTE
What you shouldn't miss to see and do while traveling to Burgundy and Franche-Comté
VEZELAY, A UNESCO SITE AND THE MECCA OF BURGUNDY
Vézelay is a real gem of France history and heritage. The Madeleine de Vézelay, a 12th century monastic church, is a masterpiece of Burgundian Romanesque art and architecture. The hill where the site was founded has not changed since the High Middle Ages. This exceptional place welcomes thousands of visitors and pilgrims on their way to Santiago de Compostela every year.
Visit the Chateau de Vougeot and its nine centuries of History
From the far off-time days – 1098 – where the monks from Cîteaux cultivated their vines and decided to establish at Vougeot the buildings needed to exploit their vast vine lands, the cuverie and the four giant wine-presses are still there today together with the Grand Cellier, an ingeniously constructed above-ground wine cellar. During the Renaissance period, it assumed its definitive form.
Take part in a wine tasting at the Hôtel-Dieu
Known as the "Hospices de Beaune", it is one of the most remarkable examples of Flemish-Burgundy architecture across Europe. From 1443, when Nicolas Rolin endowed the city of Beaune with a hospital for poors, it continued to function as a public hospital until the 1970s, most of its income coming from wine. Covering an area of ​​60 hectares, it mainly produces Premier Crus and Grands Crus. Taking part in a wine tasting from the Hospices vineyard, recognized as one of the most prestigious on the Côte, is a memorable first class experience.
In Luxe Travel France excells at planning the most refined and inspired travel experiences. Together with our extensive network of local experts, we deliver life-changing trips to you. Get in touch with us.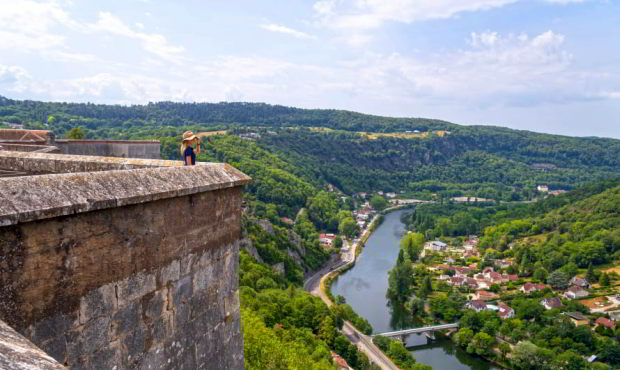 Walk on the citadel of Besançon's ramparts
This 600-meter-long citadel is an astonishing example of military architecture listed as a UNESCO World Heritage Site. One of the finest examples of the work of Sébastien de Vauban, the military engineer of Louis XIV who influenced the military architecture in Europe, but also on other continents until the middle of the 19th century.
HAVE A FUN & EDUCATIONAL LUNCH OR DINNER
We invite you to a unique initiation to the food and Burgundy wine pairing, during a lunch or a dinner in a gourmet restaurant, in a winegrower's cellar or in the middle of a vineyard.
OENOLOGICAL WORSHOP IN A WINEGROWER'S CELLAR
Led by our oenologists, take part in an initiatory journey of the senses through various workshops such as aromas, blind tasting, the art of barrels in the intimacy of hundred-old cellars.
VISIT BURGUNDY CLIMATS WITH OUR OENOLOGISTS
Discover the famous Climats of Burgundy, these delimited plots which give the wines all their character. Learn the nature of the soil and its influence on the vines, the classification of Burgundy wines, and the transformation process in the vines and the cellar.
JURA WINE TASTING TOUR WITH OUR OENOLOGISTS
Our oenologists will teach you about the diversity of the Jura terroirs, which vineyards dating back to Antiquity, constitute the broadest range that a vineyard can offer: red and rosé wines, white wines and Vin Jaune for still wines, sparkling (Crémant du Jura), sweet (Vin de Paille), mistelles (Macvin du Jura), pomace and other fines.
COMTE CHEESE: FARMS, FRUITIERES, AFFINEURS & COOKING CLASS
Visit enthusiastic and passionate Comté cheese farmers, cheesemakers and cellar masters. Explore a local affineur, meet a Comté milk producer, attend a cooking class with a Chef and savor your menu packed with delicious comté cheese.