LUXURY HOLIDAYS IN NORMANDY
Our bespoke luxury holidays in Normandy are designed to make the most of your time off doing what you love best in one of France's most attractive regions with picturesque postcard settings and unexpected landscapes. The region is full of castles, monasteries, abbeys and Romanesque dungeons bearing witness to the 11th century and the Dukes of Normandy, in particular William the Conqueror, reflecting the achievements and conquests of the famous Duke who became King of England in 1066 under the name William the 1st.
From must-see medieval towns to paradisiacal islands with crystal clear waters as far as the eye can see to explore, Normandy's natural and cultural heritage is endless.
Accompanied by our best guides and historians, you will stroll through this veritable open-air museum, whether at Mont Saint-Michel, Château Gaillard or the spectacular Fort La Latte, on an exceptional site at the edge of the cliff. Cradle of Impressionism, our art historians will offer art lovers unparalleled emotional experiences from Rouen to Etretat, Honfleur and beyond, where Impressionism painters set their easels.
Indulging in Norman gastronomy is not a big deal: the famous buckwheat galette and its many fillings (like Guéméné chitterling sausage, warm goat's cheese or sautéed apple), seafood, cheeses, cider and calvados to taste from the orchard by the glass. Its incredible richness is sure to whet your appetite whether you want to treat yourself to a delicious dinner in one of the Michelin starred restaurants or an oyster tasting at a local producer.
Our experts will design the luxury vacation in Normandy according to your wishes and needs whether it is kayaking around the many islets of the Chausey Islands to observe seals and look out for dolphins, walk the quicksand of Mont Saint Michel bay or surf the tidal bore during Spring tides in the Channel.
EXAMPLE ITINERARIES IN NORMANDY
We have no fixed itinerary, because at In-Luxe Travel France, true luxury follows no one else but you and combines rarity, knowledge, know-how, intuition. Take these itineraries as simply suggestions for the kind of holiday you might have in Normandy.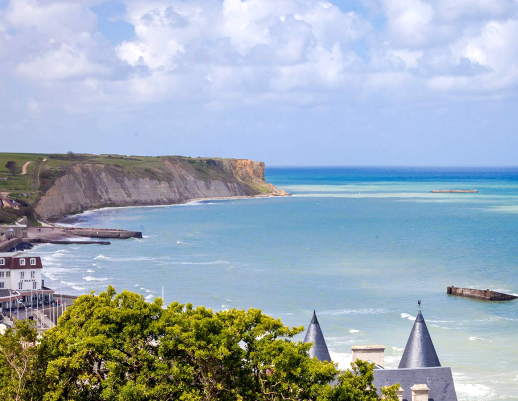 With our historian retracing history of the Allied assault, you'll receive an expert insight on the day of June 6, 1944. Utah, Omaha, Gold, Juno, Sword Beach… your private guide will deepen your knowledge around this important historical event.
read more
Our luxury holidays in Normandy take you to the heart of its history through its architecture, monuments, places steeped and will also make you discover the Normandy of today, the culture and the know-how of those who live there.
read more
MUST SEE & DO IN NORMANDY
What you shouldn't miss to see and do while traveling to Normandy
WALK IN THE BAY OF MONT-SAINT-MICHEL
Inspired by the thousand-year-old custom of pilgrims who went to Mont Saint-Michel on foot, crossing the bay with our certified guide is a must-do, whether you opt for a simple discovery of the quicksand, the tour of the Mont, a hike to the islet of Tombelaine or the round trip. An unmissable experience!
SAIL TO THE CHAUSEY ARCHIPELAGO
With only a few boats and birds for companions, Chausey is a nature lover's paradise. Home to more than 200 species of birds and 500 species of plants, the labyrinth of 365 islands and islets at low tide is classified as a Nature Reserve. Dive into the archipelago's turquoise waters from the boat or its beautiful white sand beaches.
Discover the cliffs of Etretat by stand-up paddle or kayak
The Porte d'Aval, a huge flint arcade sculpted by the waves, the even more monumental Manneporte, which Guy de Maupassant claimed that a ship could have crossed at full veil and the Porte d'Amont which in Maupassant's novel, "A Woman's Life", is compared to an elephant plunging its trunk into the sea, are even more impressive from the sea.
OTHER DESTINATIONS YOU MAY LIKE
Our luxury private Champagne tasting tours are an invitation to live a unique experience. Our oenologists make you discover the history and the cellars of family houses which wrote the history of champagne, a journey through time which will take you to the depths of sumptuous Gallo-Roman Crayères.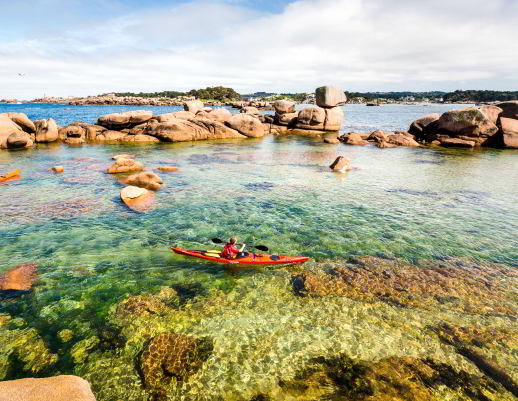 Brittany is not lacking in fascinating culture and bewitching beauty. We have traveled up and down the Côtes-d'Armor to organize a trip that will allow you to get your fill of the great outdoors…
Paris, the most romantic capital city in the world, will captivate and enchant you with its beauty and unbeatable elegance. During our Paris private guided visits, learn about the Louvre Museum's biggest masterpieces without spending all day there, admire the architecture of the very famous Opéra Garnier outside opening hours, and discover an unmissable historic heritage of the right bank