LUXURY HOLIDAYS IN PARIS & ILE DE FRANCE
Paris remains to be an absolutely essential destination for anyone planning a holiday in Europe. It is the most romantic city in the world, radiating charm, beauty, diversity and style. Its treasures are infinite.
On every corner, Paris allows you to step back in time, offering an incomparable range of towers, churches, palaces, arches, bridges and fountains…and of course the Eiffel Tower, Arc de Triomphe, Notre-Dame and Sacré-Coeur, which are beautifully illuminated each night. Without them Paris simply wouldn't be Paris.
Paris offers countless things to see and do. Have you ever witnessed the splendour of Notre-Dame with its 28 statues of the Kings of Judah, ventured into the Latin Quarter, a real centre of knowledge, housing the Sorbonne, Ecole Polytechnique, Ecole de Médicine and the Université de Jussieu, hung out in the 'bohemian' Paris immortalised in the music of Puccini, discovered the Marais and the Hôtel de Sens, a medieval city palace once home to Queen Margot.
Our customised guided tours will give a comprehensive view of Paris and help you to sample French culture. Follow our historians from the Invalides, which house the tomb of Napoleon to the Palais de Chaillot; from the Opéra, a masterpiece of 19th century architecture to the Louvre, one of the biggest museum of art and history in the world and from the sprawling business district of La Défense to the Place de la Concorde.
Paris is a real melting pot of styles and cultures, allowing each individual to have a break tailored to their unique needs and that's what our experts do the best. Visitors searching for an exclusive, sophisticated experience won't be disappointed: prestigious brands and luxurious hotels abound, as well as restaurants offering the finest cuisine and wonderful boutiques representing the masters of haute couture and luxury design.
Looking for a more laid-back experience, more intims adresses, or a trip completely informal, Paris has it all, and we guarantee you to craft something to suit your hearts desire!
Who doesn't dream of shopping in Paris?! Throughout the world, when people think of Paris, they think of fashion. This is the birthplace of big brands, the capital of creation, where each shop window is a tribute to beauty -from the superb boutiques of Avenue Montaigne to the department stores of the Grands Boulevards.
Want to capture some of this famous Parisian style? Discover the biggest names in fashion, creators and designers of sheer luxury, the most desirable labels and fine perfumes. In Luxe Travel France offers you the chance to take part in a private shopping tour, designed to showcase the city's rich fashion heritage.
Trust in the skill of our experts and their knowledge of Paris as you take part in an unforgettable experience.
We have no fixed itinerary, because at In-Luxe Travel France, true luxury follows no one else but you and combines rarity, knowledge, know-how, intuition. Take these itineraries as simply suggestions for the kind of holiday you might have in Paris and Ile-de-France.
Paris, the most romantic capital city in the world, will captivate and enchant you with its beauty and unbeatable elegance. During our Paris private guided visits, learn about the Louvre Museum's biggest masterpieces without spending all day there, admire the architecture of the very famous Opéra Garnier outside opening hours, and discover an unmissable historic heritage of the right bank
read more
Paris has shaped its image as the undisputed capital of elegance through renowned celebrities and many centuries of history. While Paris evokes images of haute couture, creators of the avant-garde, it's firstly a culture which has opened more than 300 theatres and museums to us in incredible buildings. Truly make the most of your stay in Paris….
read more
What you shouldn't miss to see and do while traveling to Paris and Ile-de-France.
VISIT ONE OF THE MOST SUMPTUOUS GALLERIES
The Hôtel de Toulouse, built in 1635, for Louis XIII's secretary of state, has spanned the centuries, becoming the Banque de France headquarters in 1808. The Golden Gallery with its gilding, woodwork and paintings, is considered, along with the Hall of Mirrors at Versailles, as one of the most sumptuous galleries in France.
Explore the medieval city of Provins
Take a historical immersion in a medieval town listed as a UNESCO World Heritage Site. Stroll on the ramparts of Provins with the imposing César tower, a 12th century defensive dungeon. The half-timbered houses of Provins have housed many celebrities, including Jules Verne and Honoré de Balzac.
VAUX LE VICOMTE: A MODEL FOR FRENCH ARCHITECTURE
Vaux le Vicomte is an unmissable fine example of villegiature from the mid-17th century. Intended to welcome the King and party not far from Paris, it will be a model for French architecture for the next 150 years. Surrounded by gardens geometrically designed by André le Nôtre, it is a founding work of the French gardens which model will be used a few years later to create the parks of the Palace of Versailles.
OTHER DESTINATIONS YOU MAY LIKE
Our luxury private Champagne tasting tours are an invitation to live a unique experience. Our oenologists make you discover the history and the cellars of family houses which wrote the history of champagne, a journey through time which will take you to the depths of sumptuous Gallo-Roman Crayères.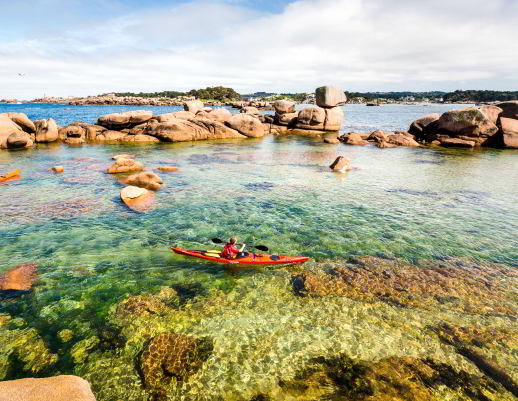 Brittany is not lacking in fascinating culture and bewitching beauty. We have traveled up and down the Côtes-d'Armor to organize a trip that will allow you to get your fill of the great outdoors…